Features
How It Works - Our Patented Dual-Axis Strain Relief Process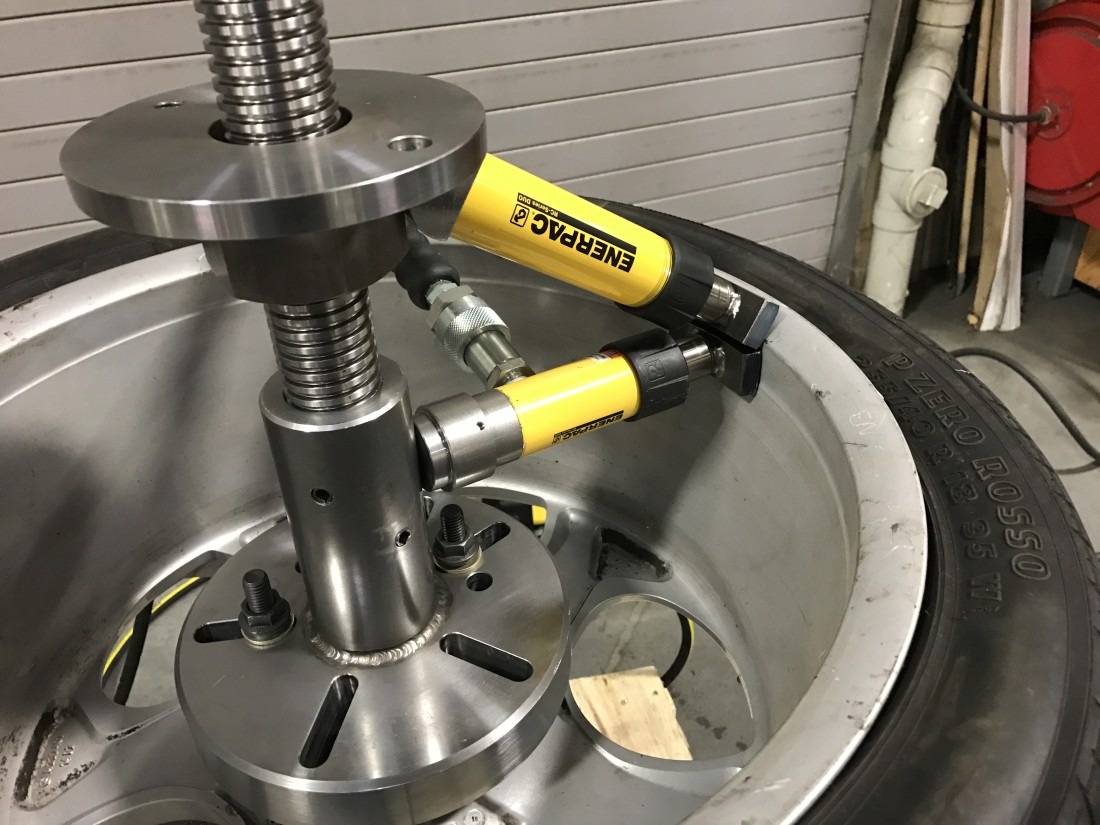 The only method of wheel straightening documented by the Society of Automotive Engineers as being safe and dependable!
The core of what separates the NewArc™ machine from the unreliable and unsafe wheel straightening technology of the past is our patented Dual-Axis Strain Relief method. By applying alternating pressure from more than one axis on a single bend, the NewArc™ machine delivers a "massaging" force that puts less stress on the metal. The result is a straightened wheel that holds up to all SAE standards for safety - a fact that has been proven by comprehensive independent testing. For more information about this technical publication, View the Full SAE Report. Click Slide Show below to watch a demo
---
Increase Your Bottom Line
Auto repair facilities can take advantage of this breakthrough technology immediately with a minimal investment that can be returned in as little as 30 to 60 days. The investment includes a device which utilizes the only method of wheel straightening recognized by the Society of Automotive Engineers. No other machine is capable of this patented method.
---
Portability
Wheel straightening machines have always been heavy, cumbersome and difficult to transport. Conversely, the NewArc™ machine requires no external air or power, is light, compact, and easily portable around the shop or in a small van or pickup truck. This allows you to save time and energy, as well as offers the potential for mobile wheel straightening - opening the door for an incredible business opportunity. It is light enough to be removed from the vehicle by a single person of average strength, allowing anyone to perform accurate and effective roadside wheel straightening next to a disabled vehicle.
---
Precision Measurements
The NewArc™ wheel-straightening machine spins on precision bearings and comes equipped with a statically mounted dial indicator to ensure complete accuracy every time, removing almost any opportunity for error.
---
Simple to Learn, Quick to Operate
On average, anyone can be taught to use the machine in about an hour, simply by using the information contained in the Training Pages of this website. Even the most inexperienced person can become proficient at wheel straightening after doing just a few wheels. Once proficient, anyone can perform a repair in a matter of minutes!
---
No Government Regulations
Many auto repairs fall under government regulations, such OSHA and EPA. There are no such encumbrances involving this repair when it is done according to our patented process.
---
No Liability
Never before have repair facilities had the opportunity to offer this all-important guarantee. Recent scientific testing of the NewArc™ machine proves that straightening a bent wheel is not only safe, it is necessary to prevent cracking. Safety experts continue to agree that all cracked wheels must immediately be taken out of service. In April of 2016, a technical paper about this scientific testing was published by the Society of Automotive Engineers. This paper also reported on the patented NewArc™ straightening process. For more information about this technical paper, View the Full SAE Report.
---
Instant Returns!
Since there are no raw materials or regulations, and there is no inventory, warranty, or liability, all but the labor cost of the repair goes directly to the bottom line. A typical wheel straightening can easily be billed at anywhere from $65 to $125. Premium wheels can even be much more.
To learn more about the NewArc™ wheel-straightening machine, please visit our frequently asked questions or visit our online store to purchase it today!